| | | |
| --- | --- | --- |
| Type | Structure | Thickness |
| Backsheet ZX300/ZX350 | PPE (PVDF Film+PET+PEVA Film) | 300~350μm |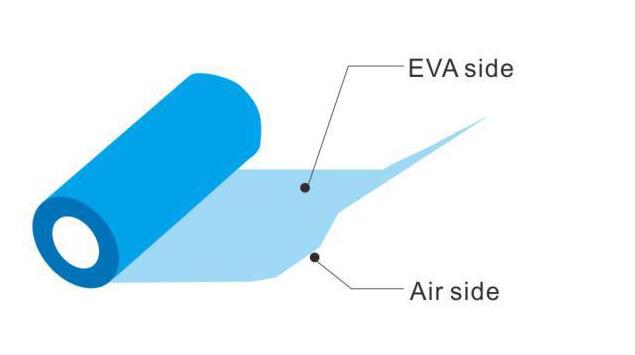 Storage Methods:
● Storage to avoid direct sunlight, moisture in and keep packing condition;
● Room temperature in ambient humidity, (23±10°C, 55±15%RH) 12 Months
Why do we need a solar backsheet in a PV panel?

The solar backsheet plays a significant role in a solar PV panel. A poor quality solar backsheet can cause system degradation, unwanted maintenance, and replacements related to additional costs.
A quality solar backsheet must protect against:
● Ultra-violet radiation, which is harsh on most polymer materials
● Humidity and vapor penetration
● Dryness, wind, dust, sand, and chemicals
Besides, it must be scratch-resistant, especially during installation and maintenance. It should also be stable at a temperature range between -40°C and +85°C.
In bifacial solar PV panels, which are designed to allow sunlight to enter from both sides of the photovoltaic cell, the solar backsheet must be optically transparent.
Most solar panel manufacturers use TPT for a solar backsheet. TPT is the acronym of Tedlar film -PET- Tedlar film.
Tedlar is the brand name of the American chemical company DuPont and refers to polyvinyl fluoride (PVF), a thermoplastic fluoropolymer material. PET refers to Polyethylenterephthalat, a common thermoplastic polymer.
Only the solar backsheet with Tedlar film-PET- Tedlar film can be called TPT because TPT is protected by a patent claimed by the Dupont Company.
Alternatives to TPT solar backsheet
At present, TPT is the best backsheet material on the market. Therefore, TPT solar backsheets are more expensive than backsheets made from other materials.
When choosing another backsheet, it is recommended to use the following tips:
Choose a Tier 1 panel manufacturer; they are the leaders in the solar panel industry, and they tend to use premium materials in their solar PV panels.
1. It is better to avoid solar PV panels that use non-UV resistant solar backsheets to minimize risk.
2. Ask for the solar panel certifications, typically UL (UL1703) or IEC (IEC61215 and IEC61730).
3. When were the solar PV panels manufactured and how are they stored?
4. Make sure that the solar PV panels have serial numbers.
5. The warranty of solar PV panels and what the warranty does not cover.